Zero Proof: 90 Non-Alcoholic Recipes for Mindful Drinking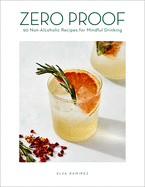 Go ahead--flip straight to the creative, colorful, tempting recipe section of Zero Proof: 90 Non-Alcoholic Recipes for Mindful Drinking. Then, glass in hand, return to Elva Ramirez's fascinating, detailed history of drinking in the U.S., and the growing movement to consider the health and social effects of alcohol consumption.
A brew shortage in colonial Jamestown led to "intemperate drinking" of contaminated water, so breweries were hastily built and enthusiastically patronized. Eventually, profligate alcohol consumption see-sawed with abstinence efforts, leading to Prohibition in 1920, then its 1933 repeal. Food journalist Ramirez traces the history of "no proof" beverages, from a 1931 "Temperance Cocktail" to the "mocktail" parties of the 1970s and '80s.
These 90 recipes are booze-free, but the "mocktail" label is out. " 'Mock' is defined as a mimicry or lesser version of what it replicates," Ramirez notes. "An alcohol-free bar may once have seemed like a punchline, but it's now one of the most talked-about developments in hospitality." She cites the "swelling ranks of mindful moderates" who participate in Dry January and Sober October. The no-proof movement is compared to gluten-free, dairy-free and vegan menu options: "The goal is a balance of choice."
Zero Proof's recipes--most with mouth-watering, full-page color photos--definitely offer choices. Forty contributors from around the globe are represented in five sections: "fruity and floral" to "vegetal and savory." Directions include where to find esoteric ingredients (herbal teas, specialty sodas) or how to make them (nettle cordial, ginger syrup). These creatively presented, lush drinks may be alcohol-free, but they're bursting with flavor. --Cheryl McKeon, Book House of Stuyvesant Plaza, Albany, N.Y.