The Twelve Lives of Alfred Hitchcock: An Anatomy of the Master of Suspense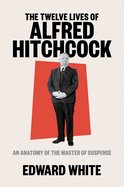 While dozens of books on Alfred Hitchcock (1899-1980) already exist, Edward White (The Tastemaker) sidesteps familiarity with an inventive and clever new way to present his biography and critical assessment of the filmmaker. Rather than tell Hitchcock's life in chronological order, White has written 12 lengthy chapters, each presenting a different aspect of his subject. "Only when all twelve are seen together will the full picture be complete," he writes.
The chapters (or "lives") begins with "The Boy Who Couldn't Grow Up," which examines Hitchcock's childhood phobias that seemingly lasted his entire life. "The Murderer" posits "Hitchcock had a lifelong fascination with cruelty and violence that fueled his creativity." "The Auteur" shows how Hitchcock's persona changed after decades of being regarded as merely a Hollywood hit-maker until French critics declared him an "artiste" in the mid-1960s. One of the more fascinating chapters is "The Womanizer," which looks at Hitchcock's wildly conflicted treatment of women on and off screen. Hitchcock was, White writes, "caught between feelings of admiration and resentment, identification and estrangement, an instinct to worship and a desire to control." Other fascinating chapters include "The Voyeur," "The Entertainer," "The Dandy" and "The Fat Man," which poignantly examines his lifelong relationship with food ("the source of joy and companionship, disgust and shame"). The final chapter begins in 1979 with Hitchcock in failing health and closing down his office at Universal studios. "Life away from work proved an oxymoron," writes White.
White's clever, authoritative and opinionated critical biography of Hitchcock is a treat for film buffs. --Kevin Howell, independent reviewer and marketing consultant