The Night Always Comes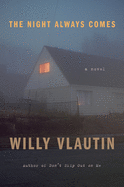 A lifetime of struggles comes to a head in two frantic days and nights in this gritty novel from Willy Vlautin (Don't Skip Out on Me).
Lynette has been juggling multiple jobs for years to buy the house where she lives with her mother and her developmentally disabled brother. She has managed to save a sizable down payment, but her poor credit history means that her mother will need to take out a loan for the rest. The week before they plan to close, her mother buys a new car and backs out. Desperate to salvage what she has struggled for, Lynette sets out to collect every debt she can, legally or not.
The Night Always Comes is a brief, harsh novel in which nothing is wasted. As Lynette seeks out friends and associates she hopes will help her in her search for cash, her reflections weave in a history of abuse, drug use and mental health struggles from which she had been rebuilding her life until she made it to this point. Her quest takes her on a tour through gentrification and its victims, to men in high finance and to those struggling to get by while on parole. Although a brutal story, a thread of hope runs through it. People suffer under societal forces, from betrayal by those close to them, and from their own mistakes, but they survive to carve out space in a world that had not left one for them. --Kristen Allen-Vogel, information services librarian at Dayton Metro Library