Susan, Linda, Nina & Cokie: The Extraordinary Story of the Founding Mothers of NPR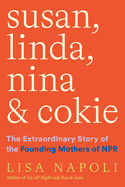 NPR listeners know the "driveway moment": when the story's too good to leave the car. As NPR celebrates its 50th anniversary, journalist Lisa Napoli's group biography focuses on the women whose voices gave it life. Susan, Linda, Nina & Cokie is a delightful book brimming with driveway moments.
Susan Stamberg, Nina Totenberg and Linda Wertheimer came to NPR shortly after its 1970 incorporation, and Cokie Roberts joined in 1978. Napoli opens with Cokie's death in 2019, writing that as a beloved "media superstar," she was "one part proper, one part ferocious, equal parts sage." The other "founding mothers," as Susan named them, shared Cokie's commitment, bucking tradition and battling flagrant chauvinism to speak for overlooked Americans. All were born between 1938 and 1944, though their roots varied. Cokie, daughter of renowned Louisiana Rep. Hale Boggs, roamed the halls of Congress as a child. Susan Stamberg, named co-host of All Things Considered in 1972, had, as a Barnard graduate, typed her way to the D.C. "educational" start-up WAMU-FM. Nina Totenberg grew up in New York City dreaming of a journalism career. From a grocer's family in New Mexico, Linda Wertheimer attended Wellesley College, where, they discovered years later, she and Cokie sang in the same a cappella choir.
Napoli balances her thoroughly annotated history of NPR with tales of the colorful careers of its most famous voices. Anecdotes are replete with iconic names, including Helen Thomas, Walter Cronkite and House Speaker Tip O'Neill (whose high praise was "I give youse girls from NPR everything."). Her meticulous research supports her premise: the founding mothers "changed journalism, the public's perception of women, and women's perception of themselves." --Cheryl McKeon, Book House of Stuyvesant Plaza, Albany, N.Y.