Second First Impressions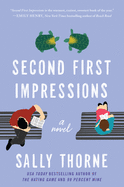 Second First Impressions by Sally Thorne (The Hating Game) is a pleasantly quirky rom-com featuring wonderfully realistic characters opening up to each other.
Twenty-five-year-old Ruthie Midona hasn't kissed anyone since prom. She manages the Providence Retirement Villa, lives onsite and rarely leaves, but is considering dating. The office temp, Melanie Sasaki, acting "electrician" to Ruthie's love life, warns her against Teddy Prescott, the new owner's son.
Not easy when the tattooed, sexy-haired motorbiker now lives next door to Ruthie and confides in her through their shared wall. And Teddy's bad guy persona? It's a veneer. Ruthie can tell from how he humors the Parlonis--two kooky old ladies in the villa who employ him for tasks such as plating Big Macs like a five-star meal or burying a white T-shirt twice, then handwashing it.
But Teddy couldn't want Ruthie, the list writer with a label maker and a Golden Girls aesthetic. Plus, she chose safety here at Providence. She can't risk heartache: "Teddy Shields Up."
Second First Impressions is a buoyant story about second chances. While Teddy tries to prove he's not going to break her heart, Ruthie, a "champion at guarding [her] feelings," illustrates the difficulty in believing that strangers don't see the turnoffs a person sees in themself. Meanwhile, the hijinks-loving Parlonis embody the sentiment of living every day like it's the last. Rich with Thorne's crackling prose, Second First Impressions is an inspiring rom-com full of weak-at-the-knees moments, personal redemptions and the joyous satisfaction of even give and take in a relationship. --Samantha Zaboski, freelance editor and reviewer