Merci Suárez Can't Dance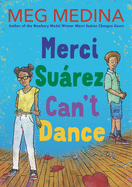 The follow-up to Meg Medina's 2019 Newbery Medal-winning novel, Merci Suárez Changes Gears, is a joyous celebration of family and friendship.
Merci Suárez had thought sixth grade was going to be tough--she had no idea seventh grade would be a whole new beast. At school she is paired with Wilson Bellevue, a kid she barely knows, to co-manage the school store, "a job that no one wants." Merci is displeased but is swayed by the promise of daily free Key lime pie: "If I was going to die of boredom... at least there would be pie." To make matters worse, Merci's BFF becomes friends with her nemesis. Meanwhile, in the Suárez household, Lolo (her grandfather) has Alzheimer's and "talks a lot less now," and her twin cousins, who Merci must regularly watch, are more rambunctious than ever. On the route to understanding why things have to change, Merci stumbles, lying and hurting people she loves. As she unpacks these actions, she thinks, "All my feelings are so confused... all of them harden in my chest, and words just can't get out."
Merci is a bold but introspective girl, figuring out the boundaries of being a kid who is almost a teenager. Medina's narrative is episodic and hurls challenges at Merci faster than the plucky 12-year-old can solve them. Growing up is tough stuff, but Medina resolves conflict with unflinching honesty and the joy that comes with dancing. Ultimately, the hard lessons reinforce the heart of who Merci is: "I'm Team Suárez and we don't back down." Merci is brave, spirited and impossible to forget. --Zoraida Córdova, author and freelance book reviewer