Did I Say That Out Loud?: Midlife Indignities and How to Survive Them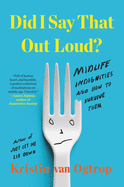 In Did I Say That Out Loud?, Kristin van Ogtrop (Just Let Me Lie Down) shares frank, often laugh-out-loud--and at times, surprisingly poignant--essays about her life and the encroachment of middle age. She draws from her own experiences and shares stories from others who have affected her life along the way. "Some of what you learn between the ages of twenty-nine and fifty-six is wonderful and some of it makes the world feel scrambled and cruel," she writes, weaving in sections about her upbringing, early jobs, her marriage, raising three boys and wayward dogs, and how she landed a career in the magazine publishing industry.
Van Ogtrop climbed the corporate ladder at magazines for 25 years. Joy and fulfillment prevailed in her career, while chauvinistic anti-feminist episodes also brought occasional challenges. When the Internet became the go-to for reading preferences, van Ogtrop was forced to cut budgets and jobs--and rethink her goals. At an annual pelvic exam, van Ogtrop mused to her gynecologist: "I think I'm either going through peri-menopause, suffering from depression, or need to find a new job." The doctor looked at van Ogtrop "over the tent" of her legs and replied, "Or maybe it's all three."
The doldrums of middle age may be a time when women lack energy, inspiration, fervor and intention. But reading about van Ogtrop's experiences is never dull. The playful honesty of van Ogtrop's inimitable mindfulness will offer readers a fresh sense of perspective as they laugh at the absurdities of life and getting older right along with her. --Kathleen Gerard, blogger at Reading Between the Lines