To Love and to Loathe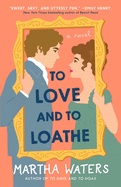 Following To Have and to Hoax, Martha Waters's To Love and to Loathe returns to Regency-era England with a witty enemies-to-lovers romance that sparkles with banter and tension. Young widow Diana, Lady Templeton, is looking for an affair but doesn't have the reputation to let eligible gentlemen know she might be interested. Her brother's longtime friend Jeremy, Marquess of Willingham, is known in society for his many liaisons. Isn't it convenient that they're both available at the same time, that he's holding a two-week house party and that they've been carrying a torch for each other for years?
The plot is a bit more complicated, however. Diana bets Jeremy that he'll be married within a year and enlists the help of his grandmother in her matchmaking scheme. So even as she's attempting to set him up with an eligible young woman during the house party, Diana negotiates a short-term fling with Jeremy--a practical arrangement that of course won't involve their hearts at all. "His intention had been to remind her of the strange, potent connection between them, to leave her wanting more. He had no idea... if he'd accomplished that aim--but he'd undoubtedly succeeded at reminding himself."
To Love and to Loathe is told in alternating points of view, illustrating two similarly delusional perspectives. Diana and Jeremy express their attraction through good-natured bickering as funny as it is obvious (to everyone but them). While they attempt to lie to themselves and each other, readers know the delicious truth: they've been meant for each other since the day they met. --Suzanne Krohn, editor, Love in Panels