The Hard Crowd: Essays 2000-2020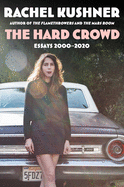 Rachel Kushner's The Hard Crowd: Essays 2000-2020 starts with a bang: an account of her participation in the 1992 Cabo 1000, a perilous motorcycle race from San Ysidro, Calif., to Cabo San Lucas, Mexico. But in this collection, featuring 19 pieces of edgy memoir, eclectic journalism and diverse criticism, Kushner consistently delivers on the promise of that exciting opener.
Among the most entertaining entries are Kushner's reminiscences about growing up in San Francisco. "Not with the Band" describes the series of bartending jobs that brought her into the heart of the city's rock music scene in the 1990s, and features a memorable encounter with Keith Richards. In the titular essay, a video clip shot from a vehicle driving down Market Street in 1966 sparks memories of her time working in the notorious Tenderloin and living in Haight-Ashbury. But Kushner doesn't draw only on recollections of her home turf. "In the Company of Truckers" is a brief, disarming piece about a random act of kindness received while on a cross-country drive in the late 1990s.
Admirers of Kushner's novel The Flamethrowers, a finalist for the 2013 National Book Award, will delight in the essay "Made to Burn," which, in addition to Kushner's prose, features arresting images that provided some of her inspiration for the novel. Not every one of Kushner's pieces will enchant every reader, but The Hard Crowd consistently showcases the work of a conscientious, engaged journalist. Her talent for writing fiction is already well-recognized, but this introduction to her nonfiction showcases the breadth of her talent. --Harvey Freedenberg, freelance reviewer