The Great Peach Experiment 1: When Life Gives You Lemons, Make Peach Pie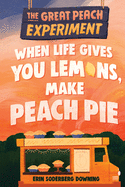 When Life Gives You Lemons, Make Peach Pie is populated by quirky children, a distracted but loving parent and enough adventures and crises to pack more than one middle-grade book. Luckily, this is only Book 1 of the Great Peach Experiment series.
Two years after the death of her mother, 12-year-old Lucy Peach has settled into a new normal. Lucy is the "fixer," tending to her younger brothers, Freddy and Herb, and managing their expectations of their father, who never quite follows through with his promises. So when Dad announces that they've unexpectedly come into $1 million--thanks to the success of an invention their mother was working on before she died--and that he has purchased a food truck so that they can travel the country, Peach family feelings are... mixed. Be that as it may, in a matter of days, the Minnesota family hits the road with a plan to sell Great-Aunt Lucinda's peach pie out of their truck--and to win first prize at the Delaware, Ohio, Food Truck Festival.
Erin Soderberg Downing (Moon Shadow; the Quirk series) is exquisitely tuned in to her middle-grade readers. In addition to her sometimes poignant, often comical scenes, she includes Freddy's drawings and commentary, Lucy's droll letters to Great-Aunt Lucinda, an excellent seventh-grade book list and maps of the Peach family's progress through the Midwest. In When Life Gives You Lemons, Downing gently but candidly takes on the diverse ways a family grieves, allowing Lucy and the others to come to a bittersweet conclusion: "The time had come to let go of what was, and accept what is." And don't fret: a certain kind of reader will be satisfied to know that yes, someone does eventually get a pie in the face. --Emilie Coulter, freelance writer and editor