The Dictionary of Lost Words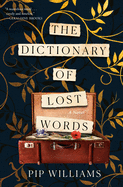 In her intriguing first historical novel, Pip Williams (One Italian Summer) follows an unconventional woman who makes the Oxford English Dictionary her life's work while secretly collecting working class and women's words deemed unworthy of its pages.
In late 19th-century England, Esme Nicoll spends her childhood hiding under tables in the Scriptorium, a garden shed in Oxford where a team of lexicographers, including her widowed father, work diligently at collecting and editing definitions on paper slips for the first Oxford English Dictionary. At age five, she swipes a slip bearing the word "bondmaid." Years later, the realization that this word applies to Lizzie, a maid and her close companion, as easily as to a Roman slave girl angers Esme. She questions why the OED leaves words out, often the language of working-class people and women. "All words are not equal," or not considered so, explains family friend and female intellectual Ditte. While remaining devoted to the OED, Esme begins using oral history techniques combined with lexicography to collect the words of market vendors, actresses and servants. As British suffragists protest and World War I draws near, writing The Dictionary of Lost Words becomes Esme's guiding purpose.
Told in Esme's gentle, inquisitive voice and spanning four decades, The Dictionary of Lost Words is a searching, feminist exploration of how class and gender affect the boundaries of language. This sweeping coming-of-age story, set against a tumultuous time in British history, is a historical fiction fan's dream. --Jaclyn Fulwood, blogger at Infinite Reads