Paradise, Nevada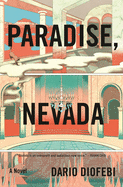 In Paradise, Nevada, his staggering debut novel, Dario Diofebi has created a comic epic with the complexity and sweeping emotion to suit its singular setting, Las Vegas.
On a spring night in 2015, a bomb detonates inside the Positano Luxury Resort and Casino, a place built on the same paradoxes as Las Vegas itself, at once "both fiction and reality, both paradise and home." Months before the fateful event, four strangers converge on the Positano seeking salvation from their own personal crises: a digital poker wizard looks to make a living playing the tables after his faith in mathematics is shaken; an existentially adrift cocktail waitress finds purpose in organized labor's struggle against predatory capital; an Italian immigrant with an expired visa confronts the fear and loneliness that govern his life; and a determined Mormon journalist pursues a story with profound implications for her career and her family.
Diofebi takes a patchwork approach to his intricate plot, patiently weaving each narrative thread toward an explosive finale. Along the way, he deftly and playfully steers readers down side roads of noir and western, road novel and heist thriller. Perhaps the greatest of Diofebi's many gifts as a novelist is the psychological acuity with which he draws his characters. Even with the novel's grand staging, Diofebi keeps a keen eye on the anxieties and aspirations that animate each of his protagonists. With an abundance of warmth and humor, Paradise, Nevada establishes Dario Diofebi as an eminently thoughtful and ambitious novelist. --Theo Henderson, bookseller at Ravenna Third Place Books, Seattle, Wash.