I Sang You Down from the Stars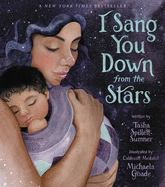 A young Indigenous woman joyously awaits the birth of her child in this celebration of family and tradition by Cree and Trinidadian writer Tasha Spillett-Sumner (Surviving the City), with dazzling illustrations by Tlingit artist and Caldecott Medalist Michaela Goade (We Are Water Protectors).
"I loved you before I met you," the mother says. "Before I held you in my arms,/ I sang you down from the stars." Readers see her gazing up into an amethyst sky at sunset, longing for a child. The swirling white plume of a falling star's trail mingles with chimney smoke from her nearby home. Following the sweeps of stardust, she finds a white eagle feather in a strawberry patch, "the first gift in a bundle/ that will be yours." After becoming pregnant, she continues to gather items to add to the baby's bundle; after the birth, the mother sees stars reflected in her daughter's eyes. During a celebration of family and friends--most of whom share her brown skin tone while a few appear white--she realizes the baby is like a bundle filled with love and hope for the future.
While the assembling of medicine bundles is practiced primarily by Indigenous cultures, Spillet-Sumner's tender free-verse tribute to the joy of welcoming a new baby should resonate with any caregiver who has excitedly awaited a child's arrival. Her spare, uplifting lines sing with gratitude, reverence and elation. Goade's ethereal watercolor and mixed-media illustrations soar across the page, overflowing with gorgeous touches. The stardust swooshes recur, sometimes framing insets that show traditional dances, sacred images from the natural world and allusions to both Cree and Tlingit stories. I Sang You Down from the Stars will make a beautiful gift for an expecting family as well as a read-aloud to assure children they are loved. --Jaclyn Fulwood, youth services manager at Main Branch, Dayton Metro Library