I'm Waiting for You: And Other Stories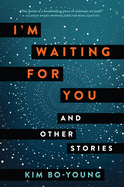 As impressive as Kim Bo-Young's intriguing stories are, their literary provenance is equally entertaining. "I wrote 'I'm Waiting for You' for one person to read and one person to hear, with no ambitions of it ever being published," Kim reveals in her author's note. An old friend reached out via "polite email" and, although Kim had never written a romance, requested "a story he could use to propose"! The highly successful result--both as aphrodisiac and literature--appears as the eponymous opener to Kim's four-title collection of two interlinked pairs, the first and last translated by Sophie Bowman, the middle two by Sung Ryu.
Lucky readers are wise to lean in and get ready to sigh and soar. The bracketing stories, "I'm Waiting for You" and "On My Way to You," are a he-said/she-said duet about timeless love. In between exploring such everlasting commitment, Kim includes "The Prophet of Corruption" and "That One Life"--the latter she calls "a light spinoff" of the former--in which the immortal world of connected-yet-conflicting creators observe and evaluate the machinations and manipulations they control on Earth below.
Kim, lauded as one of Korea's most influential and award-winning sci-fi writers, served as a script adviser to an earlier film by Oscar winner Bong Joon-ho of Parasite fame. Her short story "Between Zero and One" was a highlight in the 2019 anthology Readymade Bodhisattva, which introduced her work to Anglophone audiences. Kim appears poised to enjoy well-earned international acclaim. --Terry Hong, Smithsonian BookDragon