Things My Son Needs to Know About the World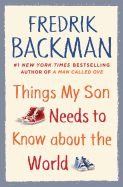 Following five successful novels--including A Man Called Ove and Us Against You--Swedish author Fredrik Backman turns to nonfiction. It should come as no surprise that this collection of essays to his young son is splendidly entertaining. As Backman generously offers a peek into the wisdom he bestows on his progeny, readers will find all the humor, profound insight and compassion that make his fiction so irresistible.
Backman claims that parents "actually haven't got a clue what we're really doing--having kids is in many ways like trying to drive a bulldozer through a china shop. With broken legs. Wearing a back-to-front ski mask. While drunk." Yet, he still manages to fill the pages with a deep understanding of human nature, a savvy instinct about the world and an endearing moral compass. He wraps this complex astuteness in hilarious analogies, anecdotes and lessons: a plea for his son to love soccer, warnings about IKEA, repeated apologies, a recipe for hot dogs, a lecture about God. And tucked in between the essays are short, bonus gems, including "Notes to self," conversations and observations.
One needn't be a father--or even a parent--to treasure this collection. As with all of his previous work, Backman artfully crafts his words to touch each person both individually and universally. He tells his son, "They say that sooner or later, all men turn into their fathers. And I really hope that's not the case. I hope you become much better." If his son manages that feat, it will be quite an accomplishment. --Jen Forbus