The Favorite Daughter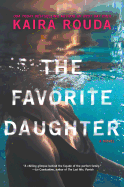 Jane is rising from the ashes following a year of medicated mourning for her brilliant daughter, Mary. Her husband has become distant and absent; her remaining daughter, Betsy, the "average" one, is combative and angry. Jane is determined to regain her image as a perfect O.C. wife.
As Jane narrates her "coming out" plan in the days before Betsy's graduation and a celebration of life in Mary's honor, it becomes apparent the details of Jane's "complicated grief" diagnosis have been meticulously researched, down to her fascination with death statistics ("Cows kill twenty people a year in the U.S., which seems like a low number considering what we do to those poor creatures.").
In The Favorite Daughter, Kaira Rouda (Best Day Ever) provides a front-row seat to the riveting unraveling of an unhinged narcissist who will do anything to regain a picture-perfect image. Through the conversational first-person narrative, Jane slowly reveals her true self and how far she will go to put her life right, including more than a little revenge and destruction.
Rouda's portrayal of Jane is fabulously compelling and darkly hilarious, detailing her self-obsession and conceit. (Jane re-watches news interviews from when Mary went missing, happy with how her makeup looked and proud "all of [her] acting experience shined through.") This amplifies the discomfort of witnessing Jane coming unwound, but it's impossible to look away from the wreckage. The resolution is satisfying, but the ride is so diabolically twisted and entertaining that readers will be sorry when it comes to a stop. --Lauren O'Brien of Malcolm Avenue Review