How to Forget: A Daughter's Memoir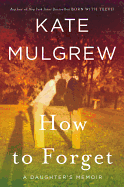 Actress Kate Mulgrew (Star Trek Voyager, Orange Is the New Black) follows up her candid and thoughtful 2015 memoir, Born with Teeth, with an equally forthright and emotionally raw tale of caring for her parents at the end of their lives.
When her father is diagnosed with stage-four cancer that has spread from his lungs to brain stem, liver and kidneys, Mulgrew's return visit to her home state of Iowa is extended indefinitely. Six years earlier, her mother was diagnosed with Alzheimer's disease and continued living at home thanks to a full-time caregiver. How to Forget tenderly chronicles Mulgrew's decision to care for her parents over the last two years of their lives.
With crystal clarity and sharp insight, Mulgrew paints a complicated family portrait as rich and complex as families in Pat Conroy's epic novels. As an adult, Mulgrew sees her parents and siblings with a fresh perspective. She realizes that one of the unspoken tenets of her parents' relationship was "they should never be emotionally vulnerable to each other, that such exposure could only lead to trouble." Mulgrew also writes beautifully of the way families are often torn apart--rather than united--by loss. "We longed to reach out to one another, but at every turn this instinct was thwarted, tangled in a web of suspicion and resentment," she writes. "As much as we had loved one another in the fullness of life, we hated what we had become when that wholeness was eclipsed by loss." How to Forget is an unforgettable, tender and loving memoir of acceptance and loss. --Kevin Howell, independent reviewer and marketing consultant