Furious Hours: Murder, Fraud, and the Last Trial of Harper Lee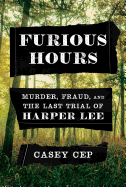 The residents of rural Coosa County, Ala., could be forgiven for being leery of Reverend Willie Maxwell. After all, five people close to him, including two wives, died mysteriously--leaving life insurance policies in Maxwell's name. In her first book, Furious Hours: Murder, Fraud, and the Last Trial of Harper Lee, journalist Casey Cep explores both the strange case of Maxwell's life and death, and how famous Alabama native Harper Lee came out of seclusion and shook off her demons to try to chronicle this story of crime and vigilantism.
Maxwell collected hundreds of thousands of dollars in insurance but, although he was investigated thoroughly, he was never charged with a crime. The entire county "knew who had committed them, they just did not know how, or how to stop him." So, after the death of Maxwell's adopted stepdaughter, Shirley, her uncle figured that he knew how to stop the man. Robert Burns shot and killed Maxwell in front of hundreds of mourners at her funeral.
Cep knits together race, superstition, law and politics to create a compelling narrative that leads up to Harper Lee's appearance in the third section of the book. Cep's candid and empathetic portrayal of a gifted author tortured by success, creatively blocked, yet who spent years researching this true-crime story, provides what may be the most comprehensive recounting of Lee's ultimately futile attempt to write a follow-up to To Kill a Mockingbird. With Furious Hours, readers will conclude, Cep has written the book that Lee herself wanted to write. --Cindy Pauldine, bookseller, the river's end bookstore, Oswego, N.Y.