Crossing on Time: Steam Engines, Fast Ships, and a Journey to the New World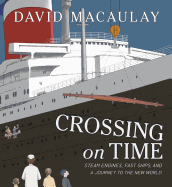 The Way Things Work Now author David Macaulay takes readers on a transatlantic voyage in this homage to designer William Francis Gibbs's Blue Riband-winning steamship, the SS United States.
As a child, Macaulay emigrated to the United States with his family. Macaulay, his mother and his siblings journeyed to their new home on the ocean liner Gibbs spent 30 years imagining, researching and refining. Crossing on Time tells the story of both the ship's evolution and the Macaulay family's move. Accompanied by his illustrations and engineering-style blueprint drawings, Macaulay takes the audience through a brief history of the steam engine and its effect on sea travel. He depicts models and offers visual representation of the scientific concepts he explains in the text. As he continues to images of the vessels and their construction, he incorporates humans and animals to offer perspective, emphasizing the enormity of not only the craft but also Gibbs's dream.
Macaulay includes fascinating details about the United States, sure to engage future engineers and architects, such as Gibbs's concern for fire at sea: "The only wood he allowed belonged to a couple of grand pianos and a few chopping blocks in the galleys." Macaulay also injects charming humor that keeps the narrative animated and entertaining, such as when the family sees France from the boat: "This was our first trip to France.... It looked just like England, but with different flags." Maintaining the personal nature of the story, Macauley even includes the only two pictures of his family aboard the SS United States in the book's back matter.
A stunning book befitting its magnificent subject, Crossing on Time is a blue-ribbon read. --Jen Forbus, freelancer