A Walking Life: Reclaiming Our Health and Our Freedom One Step at a Time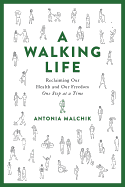 Going for a walk, or even stepping out the door on two feet, is a fundamentally human activity. But over the last few centuries, much of humanity has gradually lost, or is losing, the access and ability to walk without impediment and without fear. In her first book, A Walking Life, journalist Antonia Malchik delves into the repercussions of a sedentary life and explores the benefits--social, political, physical and spiritual--of reclaiming walking as an essential practice. "We walk," she says, "to remind ourselves that we are free."
With chapter titles like "Stride," "March," "Quest," "Pace," "Meander" and more, Malchik explores the physical and psychological processes of walking and the ways bipedalism has shaped the human experience. She examines walking as migration, as public protest, as spiritual practice, and visits cities on every part of the pedestrian-friendly continuum. (Denver, despite its reputation as a walkable city, has a long way to go--but so do most American metropolises.) She argues convincingly that walking, and easy access to safe pedestrian paths, has a powerful impact on individual citizens and their communities. It is, she says, vital for physical health, mental sharpness and connection with both nature and fellow humans. Malchik also draws on her own experience, from brief sanity-saving walks with her young children to her family's larger story of emigration from Russia to Montana.
Thoroughly researched, insightful and engaging, A Walking Life will inspire readers to slip on their shoes, open the door and just go. --Katie Noah Gibson, blogger at Cakes, Tea and Dreams