A Craftsman's Legacy: Why Working with Our Hands Gives Us Meaning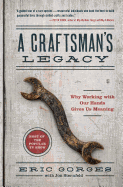 Eric Gorges describes the television show he hosts, A Craftsman's Legacy, as "a celebration [of crafts], but it's also a demonstration, a lesson." In his book of the same name, co-written with author Jon Sternfeld (A Stone of Hope), that celebration and demonstration moves from the screen to the page, as Gorges documents the many lessons he's learned from various crafts and craftsmen (and women) across the country.
Each chapter of A Craftsman's Legacy is based on topics like focus, respect, individuality and sacrifice. Within these, Gorges explores the works of one or two master craftsmen, giving a short history of each craft (as varied as sword making, engraving, woodworking, stone carving and even jeans-making). This historical detail gives context to Gorges's argument that "a craftsman is simply a vessel for the craft--adding to it and shepherding it along across time and space," and allows him to explore the role of the craftsman in a century rife with new technology and automated processes.
"Crafts and craftsmanship can move us, help us feel alive, and restore our sense of humanity," argues Gorges. This point comes across clearly in nearly every interview, but also in Gorges's account of his own experience building a custom motorcycle business, which is woven throughout the book. Some of these stories may feel overly simplified or romanticized, but that's ultimately the appeal of handmade crafts: they seem deceptively simple, masking the skill, time, patience, knowledge, personality and energy they take to create. A Craftsman's Legacy gives tribute to that simplicity while celebrating each craft's distinct complexities. --Kerry McHugh, blogger at Entomology of a Bookworm