The Charmer in Chaps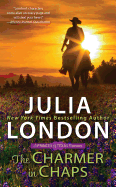 Ella Kendall returns to her hometown of Three Rivers, Tex., a little better off than she started. After being raised in the foster care system, she's been taking and cherishing what she can get: her old, beat-up car, the rundown house she inherited and the memory of a stolen kiss from Luca Prince in high school. The Princes are a dynasty in Cimarron County--rich, famous and a staple of the community. Ella has no idea why Luca kissed her that night, or why he's decided to notice her when she moves back home.
Julia London (the Highland Grooms series) could have easily put Luca in the billionaire bad boy role, but instead creates a well-developed character. Luca has had a comfortable upbringing and wants for nothing. However, his family willfully ignored his dyslexia while he was growing up, leaving him functionally illiterate as an adult. His drive to become a conservationist and revert his family land to wildlife spurs him to learn how to read as an adult. Luca's soft heart for animals and desire to become more than just his money make Ella to fall for him. The majority of the book is fun and lighthearted, but the last quarter takes a darker turn as Ella deals with her toxic relationship with Stacy, a friend from the foster system. However, London steers the story back to the hopeful and delivers a satisfying happily-ever-after. --Amy Dittmeier, adult services librarian, Brookfield Public Library, Ill.