Millenneagram: The Enneagram Guide for Discovering Your Truest, Baddest Self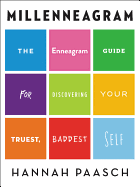 Hannah Paasch, a blogger and Twitter influencer credited with starting the #churchtoo movement and #millenneagram, has turned her snark to good use in Millenneagram: The Enneagram Guide for Discovering Your Truest, Baddest Self, a funny and profane update to the ancient personality typing system of the Enneagram.
Paasch, who calls herself an Ex-vangelical, has updated the Enneagram for the millennial crowd, replacing its spiritual overtones with her brash, insightful look at life today. Millenneagram, "a revamped spin on the Enneagram that helps us be our truest, enough-as-is, bad-ass selves," is sure to make readers laugh and also cringe a little as they recognize themselves in the nine personality types of the Millenneagram. From One ("The Machine") to Four ("The Tortured Artist") to Nine ("The Wallflower"), Paasch offers penetrating glimpses into how personality shapes us and how best to live a mentally healthy life.
Each chapter offers warning signs on disintegration (what direction each type heads when not at their healthiest) and helpful tips for improving integration (moving in a mentally healthy direction). Paasch also breaks down each of the nine types into their three instinctual subtypes: the self-preserving, the social and the sexual. For readers who haven't yet jumped on the Enneagram bandwagon, Paasch offers tools and tips for helping to determine your type. A quirky combination of Unfu*k Yourself and The Road Back to You, Millenneagram is quick and refreshingly honest. --Jessica Howard, bookseller at Bookmans, Tucson, Ariz.