Laura Dean Keeps Breaking Up with Me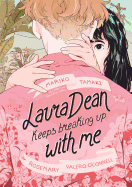 Laura Dean has broken up with Freddy Riley three times. This time, Freddy walked in on Laura kissing another girl at a dance. Her friends Eric, Buddy and Doodle comfort Freddy outside the school, where she decides to chug a bottle of liquor (" 'Where did you get Schnapps?' 'Oh my God. I can smell it from here.' "). Couple Eric and Buddy head home, leaving Doodle to take care of the very drunk Freddy. Life proceeds miserably for a bit until Laura shows up at Freddy's doorstep and the two begin dating again.
Freddy can tell that her "nonprofessional advice-giving friends are struggling to muster sympathy for [her] increasingly ridiculous situation," so she writes a series of e-mails to an advice columnist. The e-mails work as the graphic novel's exposition while also giving readers an idea of how Freddy perceives the world. Completely involved with Laura, Freddy realizes she's being a bad friend, but can't seem to break out of the cycle. Doodle is in desperate need of a friend--will Freddy come through for her?
Laura Dean Keeps Breaking Up with Me is almost too real. Mariko Tamaki (This One Summer) and Rosemary Valero-O'Connell get the ache, desire and humiliation of being in a relationship that has moved past love into compulsion. Tamaki's Berkeley, Calif., teens are witty and bright, cracking jokes and holding serious discussions about the age of consent. Valero-O'Connell's pencil, ink and digital illustrations depict the rawness of the teen's emotions, every feeling showing in their faces and postures. Each character is infused with personality: Doodle's quiet shrinking into herself; Laura's sexy self-confidence; Freddy's low self-esteem and indecision. Laura Dean isn't a light read, but it's certainly a true one. --Siân Gaetano, children's and YA editor, Shelf Awareness