Lanny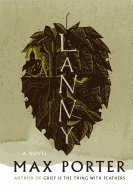 Following his first novel, Grief Is the Thing with Feathers, Max Porter again takes his reader into a weird and magical world with Lanny. Similarly short, lyric and mysterious, this touching story is partner but not sequel.
Lanny's mum and dad have moved to a village not far from London, "fewer than fifty redbrick cottages, a pub, a church." Lanny's dad commutes into the city while his mum works on writing her murder thriller. Lanny goes to school and plays in the woods, singing, fairy-like and joyful; he is "young and ancient all at once, a mirror and a key." There is also an old man in the village named Pete, an artist who works with natural materials and was once famous in London. He describes himself as a "miserable solitary bastard" but is actually caring and sensitive; he becomes the closest friend Lanny's family has in town.
And then there is Dead Papa Toothwort, a legend and an enigma, tied up in trees and leaves and related to the green men carved in old churches in this part of the world. As a force, it is unclear whether Dead Papa Toothwort is good or evil; he is associated with death as well as seasonal renewal. And he is obsessed with Lanny.
The whole village, in a way, revolves around Lanny--especially after misfortune strikes. Often a stream-of-consciousness style leaves the reader a bit off-kilter, but this is suited to Lanny's dreamlike setting: trust in the story will be rewarded, and Porter's prose is undeniably gorgeous. These elements in combination are every bit as imaginative, compelling and magical as Lanny himself. --Julia Kastner, librarian and blogger at pagesofjulia