Ladysitting: My Year with Nana at the End of Her Century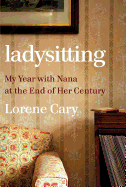 Lorene Cary (If Sons, Then Heirs) shares a heartfelt, multifaceted story of caring for her "Nana Jackson," her paternal grandmother, during the end of her life. Nana, who lived to be 101 years old, was complex. An African American who could "pass for white," Nana was strong, independent, affluent and elegant. She drove fancy cars, went to museums and concerts, doted on Cary and generously established a scholarship fund for black students. Nana could also be tough; she demeaned her husband and was a no-nonsense landlord.
Nana's life was not easy. She was raised with four siblings by their widowed father and lived through many health crises and a serious car accident late in life. Nana and Cary's father, whose bond once "seemed inseparable," also stopped speaking to each other for many years.
Approaching her 100th birthday, Nana--a widow struggling to live on her own in a now-unmanageable house in suburban New Jersey--began to suffer from degenerative heart disease. When she could no longer care for herself, Cary and her second husband, a minister, arranged to take Nana in at their rectory in Philadelphia. This arrangement revealed an ornery and demanding grandmother who tested Cary's patience and love amid Nana's complicated end-of-life care.
The last year and a half of Nana's life becomes fertile literary ground for Cary to mine her memories and her family's history in order to pull Nana's remarkable life--and her own--sharply into focus. --Kathleen Gerard, blogger at Reading Between the Lines