At Home with Muhammad Ali: A Memoir of Love, Loss, and Forgiveness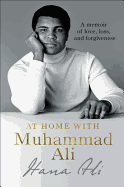 There may be no more recognizable person than three-time World Heavyweight Boxing Champion Muhammad Ali, "The People's Champion." Ali's persona is highlighted by his feats in the ring, quick wit, religious conversion and stance against the Vietnam War. Many books have been written about Ali, including three by his second-youngest daughter, Hana (Ali on Ali). In At Home with Muhammad Ali, Hana Ali changes focus and shares an intimate look at Ali's private moments with his family and what it was like to be the child of The Greatest.
A sentimental softy, Muhammad Ali recorded the goings-on in Hana's childhood home, the tapes part of the legacy he left for his children. Shared at length, transcripts include him "messin' " with his kids, prank calling friends and participating in various political causes, including trying to resolve the Iranian hostage crisis. A practicing Muslim, Muhammad Ali believed that by helping one person he was helping hundreds, and he was known to invite strangers from the street to the house.
A loving family man and father, Ali doted on his kids, making sure all seven of them (from multiple wives and mothers) grew up knowing each other. Hana is open about her father's professional pressures and romantic complications, but also his true love with her mother, Veronica, and the later-discovered letters that shed light on their sad parting. A beautiful, in-depth look at a complex and beloved man, Hana Ali's memoir is also a personal journey of forgiveness and the incredible bond between father and daughter. --Lauren O'Brien of Malcolm Avenue Review