Unto Us a Son Is Given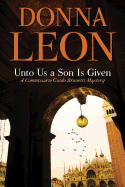 In Unto Us a Son Is Given, her 28th Commissario Guido Brunetti mystery, Donna Leon begins with her trademark gentle style. Brunetti's father-in-law, Count Orazio Falier, approaches the commissario about meeting with an elderly friend. Gonzalo Rodriguez de Tejada, the godfather of Brunetti's wife, Paola, wishes to adopt a young man because, according to Italian inheritance laws, the childless, single Gonzalo's estate will be divided among his siblings, whom he despises. Gonzalo is gay, enamored with a suave man much younger than he is, and this man is his proposed candidate for adoption. Count Falier and all of Gonzalo's other friends are appalled; Gonzalo resents their interference.
Brunetti tiptoes around the situation, hesitant to deny his father-in-law, but also abhorring the thought of interfering in the life of his wife's godfather. When Gonzalo unexpectedly drops dead, Brunetti thinks the quasi-case is closed, until a close friend of Gonzalo is murdered.
There is a gentle pace to how Brunetti and the indomitable Signorina Elettra, the Venice Questore's resident computer wizard, discreetly delve into the history of the Falier and Rodriguez de Tejada families. Unto Us a Son Is Given takes a familiar detective and his wife and adds intriguing layers to their backstory. Fans of other quiet mystery authors, like Louise Penny or Jacqueline Winspear, are sure to enjoy Brunetti's soul-searching. And, as always, Brunetti's introspection is framed by the sights and tastes of Venice, which Leon brings to life. --Jessica Howard, bookseller at Bookmans, Tucson, Ariz.