Two Men and a Car: Franklin Roosevelt, Al Capone, and a Cadillac V-8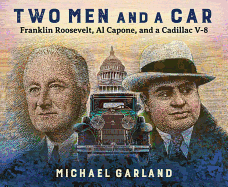 Legend claims that in 1941, Franklin Delano Roosevelt rode to the Capitol Building to deliver his "Day of Infamy" speech in Al Capone's bulletproof Cadillac--"ten years after the gangster climbed out of this automobile for the last time, one of America's greatest presidents climbed in." Using this yarn as the basis of his beguiling picture book, Michael Garland (Birds Make Nests; Fish Had a Wish) tells parallel stories, comparing the life of beloved U.S. president Franklin Roosevelt to that of notorious mobster Al Capone.
Both Roosevelt and Capone regularly appeared in headlines during the early 20th century; as Roosevelt ascended in politics, Capone rose in the ranks of the nation's crime syndicate. Garland further connects them by explaining that "both were smart and ambitious" and "young when their fathers died." Through such comparisons, he reels in readers and feeds them wonderful tidbits of biographical information about each man: Roosevelt's mother "kept his hair long and dressed him in frilly gowns"; Capone earned his Scarface nickname when he "received a knife wound to his cheek during a fight." The two may have even "passed each other in the streets of New York. But... headed in opposite directions."
As the audience peeks into the lives of both men, they're treated to Garland's bold and richly textured digi-woodcut illustrations--digital art that mimics woodcut--which give the book an antique feel and lend a sense of gravity to the overall design. Following Garland's comparison of Roosevelt and Capone, he offers resources for further reading as well as a more detailed timeline of their lives, which many are sure to pursue after the enticement of this striking picture book. --Jen Forbus, freelancer