See You in the Piazza: New Places to Discover in Italy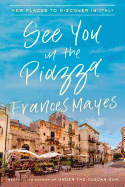 The name Frances Mayes has become synonymous with Italy. For the past 30 years, she's split her time between a home in the United States and one in Tuscany. Mayes captivated readers with her blockbusters Under the Tuscan Sun and Women in Sunlight, stories of how Italy--the culture, the landscape and the Italian way of life--has the power to change and transform people. In See You in the Piazza--part guidebook, part travelogue--Mayes's passion for Italy is further enlarged when she and her husband, Ed, hit the road in their Alfa Romeo. The pair--along with cameos by their grandson and friends-- explore the many charms of Italy, uncovering secret places only the locals know, from the northern Piemonte region south to Sicilia.
Rich, sensory descriptions are hallmarks of Mayes's work. Whether on or off the beaten path, Mayes's writing--about hiking or marketing, sightseeing or lounging with books by a pool--offers an intimate, stream-of-conscious perspective on discovering unexpected treasures. Traveling to 13 regions over a year and a half, Mayes offers a trove of little-known information about wine, food and cooking, out-of-the-way restaurants, history, quirky museums and architecture, religious and literary influences. Mouth-watering regional recipes cap off each chapter.
Italophiles, fans of Mayes and armchair travelers will be more than eager to set off on an adventurous journey that provides a rare glimpse into "unique places hidden in plain sight"--the very best of what Italy has to offer. --Kathleen Gerard, blogger at Reading Between the Lines