Mars: Stories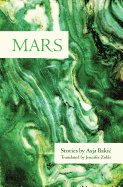 Bosnian writer Asja Bakić revels in the surreal. The plots and settings of the stories collected in Mars might get labeled as science fiction or dystopian, but the works themselves feel weightless, unmoored to any real convention as they probe dark corners of the human psyche. There are clones, trips to distant planets, even zombies, but far more memorable are the moments charged with meaning that so often end Bakić's stories, where a look, a touch or a word can upend the world.
The best of the stories in this debut have endings that lie somewhere between twists and epiphanies. In "Buried Treasure," an imaginary monster discussed by a group of children turns out to be real, though neither they nor their parents realize that it is living peacefully among them. In "Carnivore," a man attempts to cheat on his wife with a stranger, only to find that the woman is in fact his wife's mistress; furthermore, his spouse is tied up in the closet of the woman's apartment. But Bakić doesn't play these revelations for thrills, instead using them to break the reality of the little worlds she's constructed, pulling the rug out from under her readers to induce a kind of literary vertigo.
Tricky and hard to pin down, these stories tease and perplex. Readers who might not be interested by zombies and interplanetary space flight shouldn't discount this book. Likewise, lovers of science fiction and horror will find a wonderfully surreal take on tried-and-true stories, where the strictures of plot break open to release something stranger and darker. --Noah Cruickshank, director of communications, Forefront, Chicago, Ill.