A Good Kind of Trouble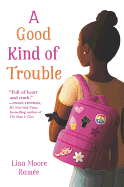 Lisa Moore Ramée's debut middle-grade novel, A Good Kind of Trouble, features junior high school student Shayla Willows, a black girl figuring out shifting friendships, social justice issues and a newly found love for running track.
Shayla and her two best friends, Isabella, a Puerto Rican artist, and Julia, a Japanese-American basketball player, call themselves the United Nations--they've been friends "since forever" and inseparable "super best friends since third grade." But junior high threatens to split up their alliance: now that she is without braces or unibrow, Isabella's outer beauty has caught up with her inner, and, according to her Instagram account, Julia is "squad goals" with the other girls on her all Asian-American basketball team. Even as she creates new friendships, Shayla will have to confront her envy if she wants to keep the United Nations together. At the same time, a police officer is on very public trial for shooting an unarmed black man, forcing Shayla to understand how prejudice affirms ignorance and hate. Perhaps it's time for Shayla to get into a bit of trouble of her own.
Ramée's narrative is straightforward and relevant for a contemporary middle-grade readership, showcasing friendship, community and the diversity of experiences that exist within different marginalized groups. The story moves swiftly and skillfully through a year of Shayla's maturation as an athlete, a sister and a friend. Putting an extra fine point on the depth of Shayla's growth, each chapter ends with direct entries from her observation journal, often poignant musings such as, "I... don't get why some people would think black people are against them when we're the ones getting shot." These and other emotional insights mark the questions of Shayla's (and our) present and future. --Breanna J. McDaniel, freelance reviewer