Tomorrow There Will Be Sun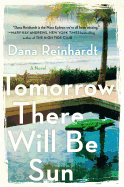 Dana Reinhardt's entertaining debut, Tomorrow There Will Be Sun, features a high-strung, highly organized narrator. Jenna Carlson is a YA novelist struggling with writer's block; she's also a cancer survivor and mother to 16-year-old Clem. Deploying her meticulous planning skills, which border on the pathological, Jenna arranges a luxury vacation in Puerto Vallarta, Mexico, to celebrate her husband Peter's 50th birthday.
The action begins as the Carlsons and their friends arrive at a stunning beach villa, their home for the next seven days. Next to a gorgeous, secluded beach and waited on by attentive staff, Jenna tries to let go and relax. While exploring the beach, she befriends Maria Josephina, a woman from a neighboring villa who quickly becomes a confidant. Jenna knows there is something suspicious about Maria Josephina's enchanted life but can't quite put her finger on it.
Despite her best efforts at planning a foolproof trip, things begin to go off-script for Reinhardt's anxious heroine, and bad weather is the least of it. Tomorrow There Will Be Sun reads like the satirical confessions of a control freak while simultaneously being utterly sympathetic. Although plush trappings provide their own sort of comfort, the true luxury of contentment and peace of mind are ultimately what our narrator finds so elusive. Fortunately, there is hope for Jenna, especially when matters beyond her control threaten to upend her carefully constructed life and Maria Josephina offers her a way out. --Shahina Piyarali, writer and reviewer