The Unhappiness of Being a Single Man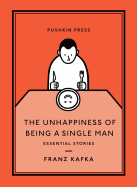 Alexander Starritt's translation of selected Kafka stories, The Unhappiness of Being a Single Man, seeks to undo some of the assumptions surrounding the author. His work is so striking and ubiquitous in the Western canon that the term "Kafkaesque" describes a situation both absurd and hopeless; even as required reading for many high school students, his stories are often written off as dour work, fodder for pretension.
While including famous pieces like "The Hunger Artist," Starritt nicely contextualizes those works by placing them side by side with comic parables and lesser-known work. Altogether, the collection serves as a reminder that Kafka, among other things, was excessively funny. "In the Penal Colony" is a perfect example, both deeply disturbing and also clearly a farce. There's a madcap energy to the whole tale that Starritt captures perfectly, even as it reaches its gruesome end.
Likewise, "A Report for an Academy," where a talking ape explains the story behind his ability to converse with humans, elegantly threads the needle between the horrifying and comedic. Kafka's best works reflect the extremes of life, the absurdity and confusion abutting moments of elation and decisive action. The Unhappiness of Being a Single Man nicely makes a case that readers should not forget Kafka's sly sense of humor and, of course, his humanity, when considering his impact on culture. --Noah Cruickshank, director of communications, Forefront, Chicago, Ill.