The Reign of the Kingfisher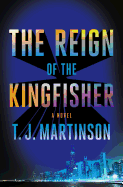 "What's the difference between a vigilante and a superhero?" Questions of superhero lore have historically been the subject of comics, graphic novels and movies--full of color, spandex suits and a deluge of action through imagery. In The Reign of the Kingfisher, T.J. Martinson novelizes the superhero comics form with such a meticulous yet fluid style, readers may forget there is no artwork.
Following the death of the Kingfisher, an enigmatic, larger-than-life sentinel who dealt with bad guys outside the confines of the law, Chicago's violent crime rate steadily increased. Thirty years later, the mystery of the Kingfisher is given new life via a ransom video. Disguised as a member of the hacker protest group Liber-teens, a man threatens to kill hostages until the cops release the Kingfisher's unpublished autopsy report and admit they helped fake his death.
Retired journalist Marcus Waters is brought in to view the video since he spent his career writing about the Kingfisher. When he provides a big clue the police seem less than anxious to pursue, Marcus's reporter gut and desire to save lives spur him to investigate, aided by a brilliant Liber-teen hacker and a disgraced cop.
In portraying a gripping race against time and into history, Martinson packs the narrative with details that set the stage minutely yet organically. On its face a breakneck thriller, Kingfisher also delves into themes of morality and vigilantism, corruption and justice. Martinson's debut is compelling, artistic and, quite simply, a blast. --Lauren O'Brien of Malcolm Avenue Review