The Bird King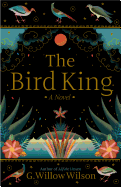 Pacific Northwest Booksellers Association Book Award-winning novelist and comics writer G. Willow Wilson (Alif the Unseen) again rises to impressive new heights with The Bird King.
Set amid shifting political landscapes of the late 15th century, this gripping fantasy captures a desperate act of resistance in the face of an imposing new empire. Fatima is the favored concubine of an Iberian sultan; nevertheless, she is lonely but for the platonic affection of the royal cartographer, Hassan. The friends while away hours together in the palace, conjuring new installments for the long, unfinished story of the Bird King, the avian ruler who set out for paradise and never returned.
Their languid days reach an abrupt end, however, when emissaries from Christian Spain arrive to demand the Muslim ruler's surrender. And when Hassan's mystical gift for making maps that bend reality, and his taste for other men, come to their attention, the friends flee for the paradise they have long imagined.
To say Wilson is a talented storyteller does not adequately capture the magnificent dimensions of her work. The adventure at hand is a riveting escape through worlds seen and unseen, with high stakes and near-misses, toward a freedom neither Fatima nor Hassan are sure they entirely believe in. Faith is all they have--besides one another. But there is a hefty dose of humor, too. Vikram the Vampire, sharp-tongued anti-hero from Alif the Unseen, emerges as Fatima and Hassan's reluctant guide through the wilderness. While it's not necessary to read one book before the other, only a fool would miss them both. --Dave Wheeler, associate editor, Shelf Awareness