The Absent Hand: Reimagining Our American Landscape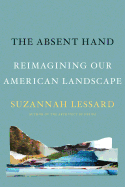 Suzannah Lessard (The Architect of Desire) offers a broad cultural examination of place in The Absent Hand: Reimagining Our American Landscape. The result is a work of great scope that's grounded by an interest in landscapes, the forces that shape them and how they in turn reshape us. Lessard chases big mysteries: "Always behind my readings of landscapes are the questions, Where are we...? and What is our relationship to our surroundings now?"
Lessard begins with a close description of "the village" where she lives near Albany, N.Y. She then travels outward, to visit a nearby friend and consider suburbophobia, and therefore the history of the suburbs--as foil to the city, as military defense concept, as commercial center, as "edge city." Having discussed terms like sprawl, metropolitan area, edgeless or stealth city and more, Lessard uses "atopia" to refer to landscapes "where contemporary development, directly expressing contemporary times, was unrestrained." She is also quite interested in "online" as a place, from its origins in Cold War strategy through the option it provides as escape from real places.
Lessard can speak from a place of economic comfort that may grate some readers, but the value of her decades of research is undeniable. The Absent Hand is often dense, as Lessard draws upon centuries of human history to make her arguments. In this ambitious work, place is examined, deconstructed and incrementally illuminated, even as our landscape changes anew. --Julia Kastner, librarian and blogger at pagesofjulia