Deep Creek: Finding Hope in the High Country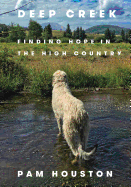 "How do we become who we are in the world?" Pam Houston (Contents May Have Shifted) asks in Deep Creek, her contemplative memoir that explores nature's power to shape our sense of self. "We ask the world to teach us."
After the 1992 publication of her first book, Cowboys Are My Weakness, Houston drove throughout the American West, giving readings while searching for a place to call home. She found it in the remote town of Creede, Colo., on a $400,000 ranch that she purchased with $21,000 ("more money than I had ever imagined having") and a payment agreement with the previous owner.
Life on a 120-acre ranch, Houston learned, meant developing endurance to cope with a grueling travel schedule for work, losses of beloved animals and extreme weather conditions--in Creede, winter temperatures often plummet to 35 degrees below zero and summer brings raging wildfires that ravage the landscape.
"The language of the wilderness is the most beautiful language we have and it is our job to sing it, until and even after it is gone, no matter how much it hurts. If we don't, we are left with only a hollow chuckle, and our big brains who made this mess, our big brains that stopped believing a long time ago in beauty, in everything, in anything."
With reverent and moving prose, Deep Creek's observations of nature's resiliency in the aftermath of dramatic and destructive events are rooted in a personal strength gained from adversity. A survivor of childhood abuse, Houston shows the depth of her perspective while optimistically championing an environment that is continually threatened. --Melissa Firman, writer and blogger at melissafirman.com